Dorians Honda Africa Twin XRV750 1996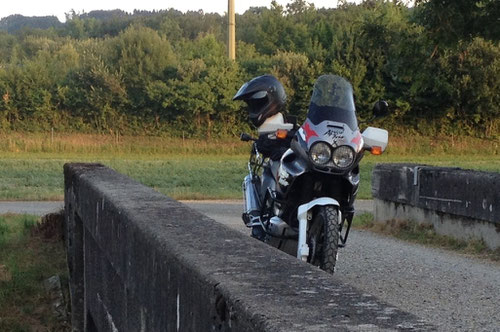 The Honda Africa Twin - from my biased point of view - one of the best consumer bikes of the 20th century. Almost indestructible and with a motor that is known to go for over 300'000 km, without having to open it once. I bow before the brilliant Japanese engineers that created this mechanical wonder (XRV650 and XRV750) in the image of the four times Paris-Dakar winner model NXR-750. During the nineties, an armada of teams competed in the Dakar Rally with Africa Twins, because the machines are very reliable even under extreme conditions.
The History of my 60PS RD07B Model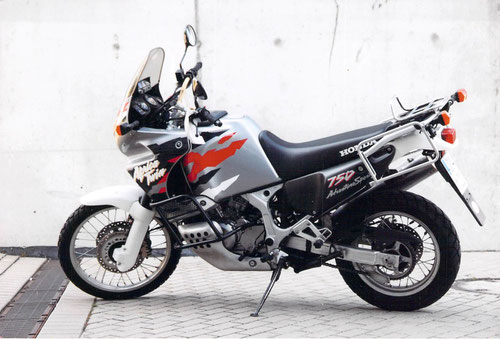 I bought this machine 2013 in Switzerland with only 36'000 km from a private vendor, who imported it from Germany. It's a RD07B from 1996. Originally the German RD07B models were reduced to 50 PS (37 KW) by reducing the cross section of the intake socket. Fortunately this was the only procedure that had to be undone in order to get the full 60 PS (unlike the Austrian models), and it was the first thing that the original buyer did in 1996.
All further modifications I did on my bike are listed below with the newest on top. At the end of the page you can find further technical details and the difference of my RD07B compared to the earlier RD07.
Modifications
What is the difference between an Africa Twin RD07B/RD07A compared to the earlier RD07?
Technical Data Honda Africa Twin XRV 750
 

Service Infromation
Front Fork Oil cc (right leg)
:
635cc
Fork oil grade
:
5w-fork oil
Valve Clearance Cold - Inlet
:
0.13mm - 0.17mm
Valve Clearance Cold - Exhaust
:
0.18mm - 0.22mm
Cooling System (litres)
:
approx 2.0 litres
Engine Oil Grade SAE
:
sae 10w/40
Engine Oil quantity with filter (litres)
:
2.4 litres
Engine Oil quantity (litres)
:
2.2 litres
Engine Oil quantity (mm)
:
118mm
Idle Speed (rpm)
:
1200 +/- 100 rpm
Spark Plugs Gap (mm)
:
0.8mm - 0.9mm
Chain Freeplay mm
:
35 - 45mm
Float Height
:
7.0mm

 

 

 

Brakes

Front
Twin Disc
Front Disc Size
276mm
Front-Pistons-per-caliper
twin piston
Rear
Disc
Rear Disc Size
256mm
Rear-Pistons-per-caliper
single piston
Brake fluid
dot.4
Dimensions
Length
2315mm to 2380mm
Width
905mm
Height
1430mm
Seat Height
870mm
Wheelbase
1565mm
Ground Clearance
225mm
Dry Weight
229kg
Fuel Capacity
23 litres
Reserve Fuel Capacity
8 liters approx.
Electrics
Voltage
12v
Main Fuse
30A
Ignition
cdi with electronic advance
Spark Plugs
NGK-DPR8EA-9
Bulb-Headlight
60/55w
Battery
12V-12AH
Ignition Timing
10 BTDC at idle. [ fully avanced 30 BTDC at 4,500rpm ]
Engine
Type
Liquid Cooled 4 Stroke V Twin
Bore x Stroke
81x72mm
Compression Ratio
9.0:1
Displacement
742
No. of Valves
6
Carburation
2x36.0mm keihin cv type
Carburation Main Jet
front #118,rear #122
Pilot Screw Setting
2-1/4 turns out
Transmission
Clutch Type
Wet Multi-plate,cable operated
Final Drive
chain-sprockets
Transmission
5-speed constant mesh
Misc.
Motorcycle Style
Dual Sport/Adventure
Frame
single down with double-loop cradle,rectangular section
Suspension
Front
43mm oil damped telescopic forks
Rear
single shock obsorber,rising rate linkage pro-link box
Front Travel
220mm
Rear Travel
210mm
Tyres
Front
90/90-H21-54s Tubed
Rear
140/80-R17-69H Tubed
Wheels
Front
21 inch spoke
Rear
17 inch spoke